Go ahead and pop that clasp on your already too tight bra, pour yourself a big glass of wine, and settle in, Multi-Passionate Conversations with Madison is now officially part of your late night routine - an open conversational style podcast where we'll explore & discuss a variety of topics with no limits as to where the stories will take us, that you can listen to as you wind down the day. Inside the episodes, we'll highlight conversations, stories and create deep connections with multi-passionate people who love to talk about whatever they find to be cool and unique. We'll chat with expert guests that are creatives, entrepreneurs, visionaries, and artists who'll share engaging stories, their skills, and the passions and hobbies that light them up and keep their multi-passionate minds inspired. So get comfy, hit play and let's dive into the conversation.
Episodes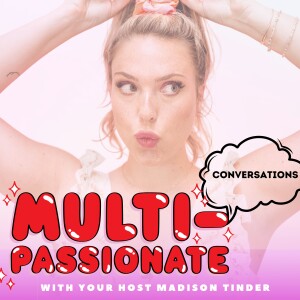 Thursday Apr 20, 2023
Thursday Apr 20, 2023
Welcome back to Multi-Passionate Conversations! I'm excited to chat today, we have a little different episode. I'd like to talk about things I've been loving lately, wedding planning, some things maybe you didn't know about me, some things that I'm kind of like doing and working on, you know, not business related.


Inside the episode we'll talk about: 
Behind the scenes of planning my upcoming wedding

What I am putting in place to keep both business running during wedding season

Things I'm loving and doing to improve my self care

What I started taking for my hormonal acne that's also helping my sleep and anxiety

My weekly skin care regimen

My new favorite lip oil. I don't know what's in it, but it's like crack literally

Workouts I've been loving 

Really focusing on, living my life in the present moment

Travel and the Taylor Swift concert

Volleyball and fun hairstyles





If you got some amazing takeaways from this episode, share it with me in a review for the show, pop that on Instagram and tag me in it!


JOIN the Membership >> MULTI-PASSIONATE SCHOOL OF BUSINESS: https://www.madisontinderllc.com/multi-passionate-school-of-business-1
Connect & Work with Madison: