Go ahead and pop that clasp on your already too tight bra, pour yourself a big glass of wine, and settle in, Multi-Passionate Conversations with Madison is now officially part of your late night routine - an open conversational style podcast where we'll explore & discuss a variety of topics with no limits as to where the stories will take us, that you can listen to as you wind down the day. Inside the episodes, we'll highlight conversations, stories and create deep connections with multi-passionate people who love to talk about whatever they find to be cool and unique. We'll chat with expert guests that are creatives, entrepreneurs, visionaries, and artists who'll share engaging stories, their skills, and the passions and hobbies that light them up and keep their multi-passionate minds inspired. So get comfy, hit play and let's dive into the conversation.
Episodes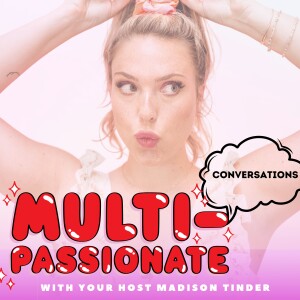 Thursday May 04, 2023
Thursday May 04, 2023
Welcome back to Multi-Passionate Conversations! Today we're chatting with Shay Howard, about growing up rodeoing, barrel racing, weightlifting, her experience living abroad and how it's really shaped her as an adult. Shay is amazing, she's a director of operations and OBM and she does a lot of fantastic things and of course, she is multi passionate. So let's dive into the episode.


Inside the episode we'll talk about: 
Growing up with rodeo and the freedom of barrel racing

Life transitions and heartbreak

Coming to terms with making hard choices and living with them

The movie that inspired her to study abroad

Where she went and why it was one of the best decisions she ever made

as a young adult

Everything she's done and how it's impacted her as a business owner

Shay's current business and passion goals for this year

The value in a sustainable business and time freedom over glorified income goals




If you got some amazing takeaways from this episode, share it with me in a review for the show, pop that on Instagram and tag me in it!


JOIN the Membership >> MULTI-PASSIONATE SCHOOL OF BUSINESS: https://www.madisontinderllc.com/multi-passionate-school-of-business-1
Connect with Shay:
Instagram: https://www.instagram.com/shayhoward.co/
Website: https://www.shayhoward.co/

Connect & Work with Madison: