Go ahead and pop that clasp on your already too tight bra, pour yourself a big glass of wine, and settle in, Multi-Passionate Conversations with Madison is now officially part of your late night routine - an open conversational style podcast where we'll explore & discuss a variety of topics with no limits as to where the stories will take us, that you can listen to as you wind down the day. Inside the episodes, we'll highlight conversations, stories and create deep connections with multi-passionate people who love to talk about whatever they find to be cool and unique. We'll chat with expert guests that are creatives, entrepreneurs, visionaries, and artists who'll share engaging stories, their skills, and the passions and hobbies that light them up and keep their multi-passionate minds inspired. So get comfy, hit play and let's dive into the conversation.
Episodes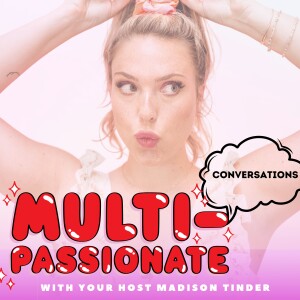 Thursday May 11, 2023
Thursday May 11, 2023
Welcome back to Multi-Passionate Conversations! Today we're chatting with Madi Paige. She is a business growth specialist, conversational podcast host, and speaker. She helps small businesses turn into brands by building a ride or die online community so you can stand out and sell on social media. I'm so excited to chat with her today. We talked about really building a thriving warm community for more sales and building an epic personal brand. Let's dive into the episode.


Inside the episode we'll talk about: 
Growing up in the family business as kid

What NOT to do as a product based business if you want to build a community

What makes a really successful product based business when it comes to marketing 

What is the differentiating factor about your product?

Being multi-passionate, building out a bus to travel the country

Madi's daily non-negotiables to build her community everyday

Teaching your audience to engage with you to create that community feeling

The importance of building a personal brand
If you got some amazing takeaways from this episode, share it with me in a review for the show, pop that on Instagram and tag me in it!


JOIN the Membership >> MULTI-PASSIONATE SCHOOL OF BUSINESS: https://www.madisontinderllc.com/multi-passionate-school-of-business-1
Connect with Madi:
Instagram: https://www.instagram.com/thisismadisonpaige/
Podcast & Website access: https://www.thisismadisonpaige.com/links?r_done=1

Connect & Work with Madison: