Go ahead and pop that clasp on your already too tight bra, pour yourself a big glass of wine, and settle in, Multi-Passionate Conversations with Madison is now officially part of your late night routine - an open conversational style podcast where we'll explore & discuss a variety of topics with no limits as to where the stories will take us, that you can listen to as you wind down the day. Inside the episodes, we'll highlight conversations, stories and create deep connections with multi-passionate people who love to talk about whatever they find to be cool and unique. We'll chat with expert guests that are creatives, entrepreneurs, visionaries, and artists who'll share engaging stories, their skills, and the passions and hobbies that light them up and keep their multi-passionate minds inspired. So get comfy, hit play and let's dive into the conversation.
Episodes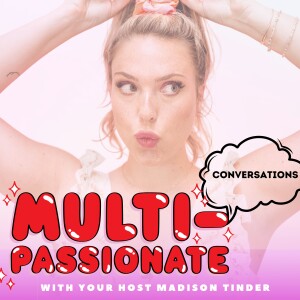 Thursday May 18, 2023
Thursday May 18, 2023
Welcome back to Multi-Passionate Conversations! I'm really excited about this episode today. I really feel like you guys are gonna love it. I'm talking about five rules I live by as a two time business owner, lover of life, just lover of peace and all of that. I feel like you're gonna really resonate and I hate to say "rules", but they really are rules for me. Let's dive in.


Inside the episode we'll talk about: 
The first rule which has been a really big learning experience for me as a two time business owner

The second rule is super important if you're a multi-passionate

The third rule is all about how I want to spend my time

The fourth rule is extremely important in affecting your happiness

I used to make so many decisions in my business that would impact my relationships which is why I created this fifth final rule
If you got some amazing takeaways from this episode, DM me or share it with me in a review for the show, pop that on Instagram and tag me in it!


JOIN the Membership >> MULTI-PASSIONATE SCHOOL OF BUSINESS: https://www.madisontinderllc.com/multi-passionate-school-of-business-1

Connect & Work with Madison: