Go ahead and pop that clasp on your already too tight bra, pour yourself a big glass of wine, and settle in, Multi-Passionate Conversations with Madison is now officially part of your late night routine - an open conversational style podcast where we'll explore & discuss a variety of topics with no limits as to where the stories will take us, that you can listen to as you wind down the day. Inside the episodes, we'll highlight conversations, stories and create deep connections with multi-passionate people who love to talk about whatever they find to be cool and unique. We'll chat with expert guests that are creatives, entrepreneurs, visionaries, and artists who'll share engaging stories, their skills, and the passions and hobbies that light them up and keep their multi-passionate minds inspired. So get comfy, hit play and let's dive into the conversation.
Episodes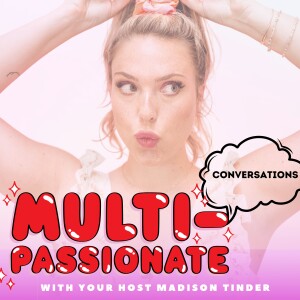 Thursday Jul 06, 2023
Thursday Jul 06, 2023
Welcome back to Multi-Passionate Conversations! For the past month, I've been talking to a lot of you in the DMs, a lot of my clients, and I feel like we have this idea that diversifying our revenue streams or monetizing another passion or just being multi-passionate in general, requires more work. I want to bust that myth for you in this episode and give you a new perspective, because when it comes to being multi-passionate, I think we have the idea that doing more work or doing more is draining and there's truly a better way to go about it. So let's get into the episode to discuss.


Inside the episode we'll talk about: 
The downside to following one thing vs having multi passions

How you can simplify your infrastructure and gain more time

This one thing is your biggest ally

Questions to ask yourself to help you pursue your passions without sucking up all your time and energy
If you got some amazing takeaways from this episode, share it with me in a review for the show, pop that on Instagram and tag me in it!


Check out the behind the scenes process of my SHOP CORNER via this Instagram post: https://www.instagram.com/p/CtrEbLfuaR1/?igshid=MWQ1ZGUxMzBkMA==
 
Connect & Work with Madison: