Go ahead and pop that clasp on your already too tight bra, pour yourself a big glass of wine, and settle in, Multi-Passionate Conversations with Madison is now officially part of your late night routine - an open conversational style podcast where we'll explore & discuss a variety of topics with no limits as to where the stories will take us, that you can listen to as you wind down the day. Inside the episodes, we'll highlight conversations, stories and create deep connections with multi-passionate people who love to talk about whatever they find to be cool and unique. We'll chat with expert guests that are creatives, entrepreneurs, visionaries, and artists who'll share engaging stories, their skills, and the passions and hobbies that light them up and keep their multi-passionate minds inspired. So get comfy, hit play and let's dive into the conversation.
Episodes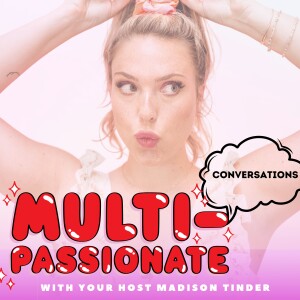 Thursday Jul 20, 2023
Thursday Jul 20, 2023
Welcome back to Multi-Passionate Conversations! Today, I'm really excited to talk, strategy. Something recently happened to me this month and I want to give you some tips that you can start implementing ASAP. So, I recently got twenty five people in a low ticket offer (which I'm not even done selling it yet) in a very short amount of time. This happened right after having sold a low ticket masterclass where I only got three people to join. When something like this happens, I always ask myself some questions to assess why I saw such vastly different results; so let's dig into this together.


Inside the episode we'll talk about: 
The one thing I did that helped me see so many more conversions (that super easy for you to do too)

Knowing what works for you and trusting your gut

Your messaging could be part of the reason you don't have conversions (and what to do about it) 

What to do before you launch a micro or low ticket offer
If you got some amazing takeaways from this episode, share it with me in a review for the show, pop that on Instagram and tag me in it!


JOIN the 30 DAY VISIBILITY VORTEX Challenge [starts August 1, 2023]: https://www.madisontinderllc.com/offers/92smLe25/checkout
 
Connect & Work with Madison: